303 GRAPHENE NANO SPRAY COATING – WHAT YOU NEED TO KNOW
The aftermarket automotive parts industry is experiencing an influx of ceramic-based coatings, and for a good reason.
The aftermarket automotive parts industry is experiencing an influx of ceramic-based coatings, and for a good reason. These products provide a high level of protection, so automobile enthusiasts have little choice but to take notice if they want to keep their cars looking sharp. One product that sets itself apart in this arena is 303 Graphene Nano Spray Coating, a powerful graphene oxide spray that takes the principle of a ceramic coating to new heights. Simply put, the time has come to meet the future of exterior automotive protection.
303 GRAPHENE NANO SPRAY EXPLAINED
You don't have to be a pro detailer to reap the benefits of 303 Graphene Nano Spray Coating. The product is engineered with simplicity in mind so everyday car-lovers can experience superior durability. By lowering the surface temperature of treated areas, water has more difficulty drying on the surface. This process causes hard water spots to become embedded in the clear coat. The product's versatility allows it to be applied to a vehicle's paint, glass, wheels, and plastic trim. The coating is safe to apply on all of these surfaces, providing up to one full year of protection following treatment. Using a graphene oxide formula, the agent creates a strong bond with exterior surfaces for an unprecedented level of protection.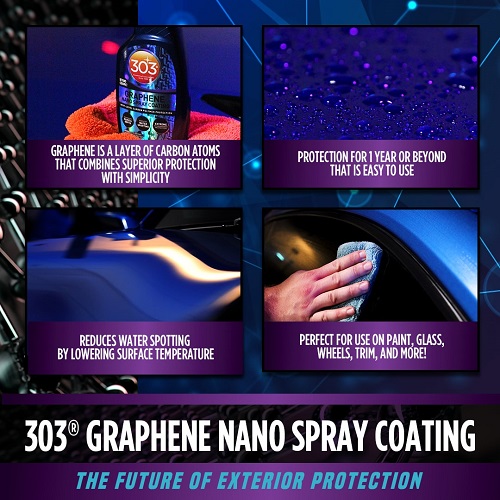 HOW TO USE 303 GRAPHENE NANO SPRAY COATING
Step 1:
Ensure that your vehicle is properly washed. After your vehicle is dry, do a quick walk around to notice any clarity issues in the paint.
Step 2 (optional):
If you noticed that any of the areas of the paint are not up to your standards, remove contaminants from the surface. Use a clay mitt and correct the paint to your desired level, using compounds and/or polishes. This is entirely optional as 303 Graphene Nano Spray Coating will still properly bond to the paint's surface.
Step 3:
Spray the product onto an applicator, and wipe it onto the surface of your vehicle one section at a time.
Step 4:
Depending on the temperature, 303 Graphene Nano Spray will eventually haze to white at approximately 5-10 minutes. Once it turns white, it's ready to be buffed off with a clean microfiber towel.
Step 5:
Enjoy up to one year of protection.
DIFFERENTIATORS OF 303 GRAPHENE NANO SPRAY
There are several notable differences between 303 Graphene Nano Spray Coating as it compares to other similar products. Keeping that in mind, look at the following benefits offered by this detailer to see what makes it so incredibly diverse.
The coating contains a black graphene oxide powder. This component enhances the surface underneath, rather than just adding a glossy layer on top. This means that while it will add gloss and depth to a glossy surface, it will not do so to a matte surface. Therefore, it can be used on matte surfaces without affecting the finish.
The product's thermal properties allow it to be applied in direct sunlight easily and without the worry of high spots, streaking, or a difficult buffing process.
These same thermal properties also help prevent hard water spots from occurring. The graphene layer absorbs the heat, keeping the paint underneath cool, helping to prevent the hard water spots from etching into the clear coat. If water spots do occur, they should easily be wiped off.
It is safe and effective on various surfaces, including paint, glass, wheels, plastic, and metal.
These benefits make 303 Graphene Nano Spray a highly approachable product for beginners while simultaneously producing results to amaze the experts of the detailing world.
FAQ OF 303 GRAPHENE NANO SPRAY
While the above video does an excellent job of providing answers to the most frequently asked questions about 303 Graphene Nano Spray Coating, you may still have inquiries such as the following.
Q: Do you need to remove any existing coatings, waxes, or sealants before using the product?
A: No. 303 Graphene Nano Spray was designed for ease of use so that it can be applied safely on top of an existing coat.
Q: Does 303 Graphene Nano Spray Coating offer UV protection?
A: Yes. The formula used offers UV protection.
Q: Is it safe to reuse the same towel after spraying the product on it?
A: Yes. So long as you wash the microfiber towel quickly after using it, the formula should not harden to the material. This allows you to avoid having to throw your towels away.
We hope that this overview provides you with a better understanding of the ins and outs of 303 Graphene Nano Spray Coating. For more information, including details on how to try it out for yourself, visit the product page below.